Condolences & Tributes
We encourage you to share any memorable photos or stories about Ruth. All tributes placed on and purchased through this memorial website will remain on in perpetuity for future generations.
Calgary Optometry Centre Staff
sent flowers to the family of Ruth Luise Tannberg (Urbahn).
Send Flowers
Your mother was a friend of mine since 1982 at JCPenney Styling Salon at Ala Moana. We took an acting class together and she helped me get into the SEG union and we worked together several times as extras on Magnum, P.I. for 5 years. I have many memories of her. She trusted me to take care of her dog, Anky, while she was in the hospital. She came to visit me several times in the past 5 years at Macy's. One thing that I will never, ever forget was when she came to drop off a home-cooked turkey dinner at my apartment on Thanksgiving Day when I was recovering from surgery. I will miss my friend, Ruthie. May she rest in peace.
Steve Amaral
- Saturday December 01, 2018 via Condolence Message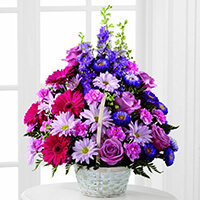 Our deepest sympathy for your loss.